Environment
The Eifelcottages are located in Meiserich which is a small, elegant resort area in the Eifel. Here are 30 houses that are privately owned and used privately.

Ulmen is the "big sister", the city is tied to the Meiserich. Located just off the A48 offers Ulmen you familiar infrastructure.
Sights
Eifelquerbahn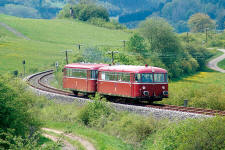 Natur
Ulmener Maar
The Ulmener Maar is the youngest volcano in Germany. It has a width of 225 by 325 meters deep and is 36 meters. He is refreshingly cool in summer.
Jungfernweiher
Important bird area - coupled with a paradise for fishing. Here you can see almost 150 types of birds including rare migratory birds like the osprey. And the 20 species of pike-perch and eel over evidence to the barn not only on the quality of the water, you can also enjoy fishing.
Fishing/Maars/Virgin pond: http://www.eifel.de
Hiking
The volcanic Eifel region is famous for its many hiking trails. These can be found within walking distance of their vacation home.
Sports
Mountain Biking / Cycling

Straight through the town Meiserich leads the volcanic Eifel cycling route.
http://www.oberes-elztal.de/flashed/radweg/radweg.htm
At the beginning of this stunning route offers itself to the advancement of Nurburgring. From here you can enjoy a fantastic view over the imposing landscape of the Eifel. Friends of racing is experience is recommended as an alternative to the world at the Nurburgring. The name of the next village Kelberg already indicates its Celtic origin. From here you can go on the road of history around the Hochkelberg searching for clues in the exciting past of our ancestors. Or you can cycle through a little later Mosbrucher Trockenmaar and nature reserve, and there indulges in a little rest.
After the rapid rise and fall of the previous track calms down the heart rate again at the latest at a rest stop on Ulmener Maar, the youngest of the Eifelmaare.
About Lutzerath, the tour continues in the direction of Bad Bertrich, where bathed by the Romans 2000 years ago in the only naturally warm salt spa in Germany.
The volcanic Eifel-wheel-route runs off of the public traffic on paved roads and smaller roads. Only a few short sections are not secured.
Golf
They are avid golfer or just want a little bit to get a taste of the sport?
A few kilometers you get to your destination:
Golf: Golfclub Eifel: http://www.golf2.vulkanspace.de
Golfresort Cochem: http://www.golf-club-mosel.de
Nürburgring
Breakfast and go: The Nurburgring is in 18 km distance and needs no further explanation:
Wellness
Bad Bertrich is famous for its geyser-heated spa facility.
Spa: http://www.bad-bertrich.de/bad.htm
Swimming fun
Cochem Mosel offers also a great water park for all ages.
Moselbad: http://www.moselbad.de/